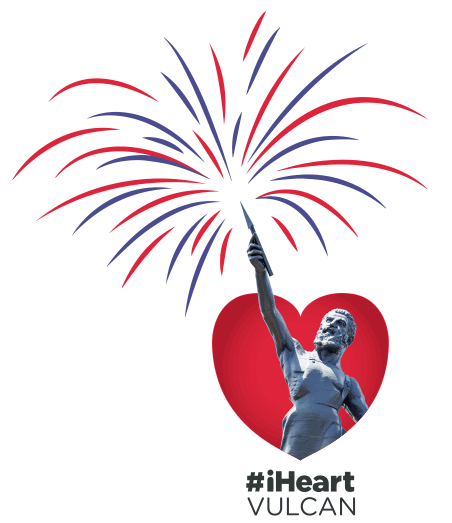 Show your Birmingham pride and make this year's fireworks show one that you will never forget! Snap a photo of the fireworks from your vantage point and share it with us for the chance to win! There are a few entry requirements so please read the information below. Thanks for participating and may the best photo win!
Requirements:
Submit your entry via our online form below
Submissions will only be accepted between July 4 at 9:00 PM and July 5 at 9:00 PM
Submissions can include photos of your 4th of July celebration with the fireworks show and Vulcan or how you and your family are spending 4th of July.
Things you can do:
Share your entry to your personal profile for more votes
Tell your friends to share your photo on social media
Votes can be cast at the "VOTE HERE" button below!
Use #THUNDERONTHEMOUNTAIN2023 and #iHeartVulcan on your post
Follow us and tag us in your post – @visitvulcan
Voting will be from July 5 – July 8.
To the victor go the spoils:
Winners will be announced on Tuesday, July 11 at 4:00p
Three winners will be chosen based on the following categories

Most Votes
Staff's Favorite
Most Patriotic 

Prizes include a special Vulcan swag bag, Hero Doughnuts, a $30 Nothing Bundt Cakes voucher, a $100 gift card to the Phiakis Restaurant Group (Rodney Scotts Whole Hog BBQ, Hot Dog Pete's, Little Donkey, Tasty Town, Luca), a $20 gift card to Frutta Bowls at the Summit and more!