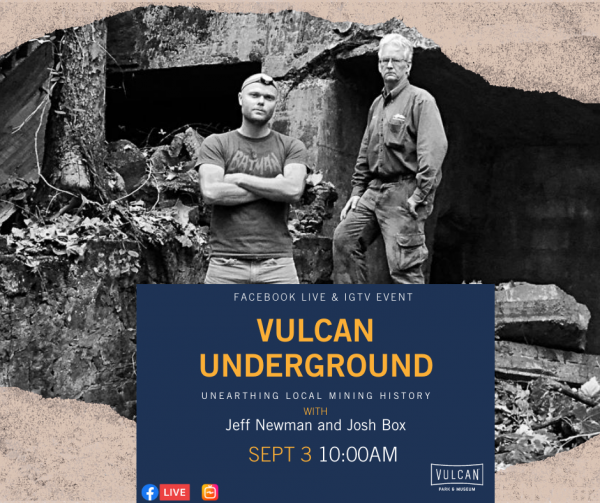 New installation allows a closer look inside an iron ore mine
BIRMINGHAM, Ala. – Vulcan Park & Museum celebrates the opening of Lone Pine Mine with its education presentation, Vulcan Underground: Unearthing Local Mining History on September 3 at 10 a.m.
Led by Underground Birmingham historians, Jeff Newman and Josh Box, this virtual presentation will take visitors back to the early 1900s when mining was a primary industry in Birmingham. This interactive presentation will discuss the history of mining along Red Mountain and will leave room for questions from the audience. The presentation will be streamed at no-cost via Facebook Live and Instagram TV.
Lone Pine Mine #3 is a small iron ore mine located on the property of Vulcan Park & Museum. In the early 1900s, workers removed iron ore from the mine for use in Birmingham's iron furnaces and factories. This small mine was operational for a few years and was closed before the outbreak of WWI. After being shut for many years, the mine entrance is now open for visitors to peek inside. Visitors will see period-appropriate artifacts and replicas from the time when the mine was in use and signage to give info about the items and the mine's history.
Can't make it to the virtual experience? Visit it first-hand seven days a week from 10 a.m. – 6 p.m.  Entrance to the installation is included with general admission to Vulcan Park & Museum: $6 for 13 and up, $4 for kids ages 5-12 and children under 4 are free.
The Lone Pine Mine installation has been made possible with support from the Alabama Historical Commission, Alabama Power Company Foundation, Community Foundation of Greater Birmingham, Daniel Foundation, Joseph S. Bruno Charitable Foundation, Stone Building Company and Susan Mott Web Charitable Trust.