Birmingham, Ala.– Vulcan Park Foundation (VPF) announces Darlene Negrotto, President and Chief Executive Officer, will retire March 31, 2023. The Board of Directors has appointed Cynthia Cardona to succeed Ms. Negrotto as President and Chief Executive Officer on April 1, 2023, at which time she will also join the Vulcan Park Foundation Board which oversees Vulcan Park & Museum.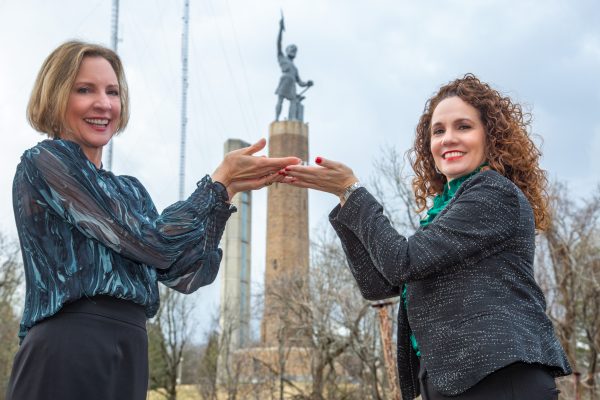 "On behalf of the Board of Directors, the VPF staff, we want to thank Darlene for her leadership and impact for nearly two decades with the organization," said Martha Raber, Vulcan Park Foundation board chair. "This year, we mark the 19th anniversary of Vulcan Park's reopening, and she has been instrumental in helping Vulcan Park & Museum fulfill its mission to preserve and promote Vulcan as the symbol for the Birmingham region, advance knowledge and understanding of Birmingham's diverse history and culture, and encourage exploration of the region. The Board is sincerely grateful to Darlene for her dedication and wishes her nothing but the best as she starts this next chapter in her life."
Vulcan Park & Museum looks forward to its continued growth under the leadership of Ms. Cardona as it begins its 20th year since reopening following a $16m restoration of the statue, renovation of the park and creation of the Vulcan Center Museum.
"With our experienced leadership team, Vulcan Park & Museum is poised for success through this leadership transition", added Raber. Cynthia brings a combination of experience and knowledge acquired in over two decades of varied museum work where she held roles focusing on collections management, visitor engagement, operations, and administration.  This combination will complement the mission of Vulcan Park Foundation, making Cynthia the right choice to lead VPM through its next phase of continued growth.
Ms. Negrotto joined Vulcan Park Foundation in 2004 and in her 19 years with Vulcan Park & Museum, has made many lasting contributions to the area's hospitality and tourism industry. She provided excellent leadership and service to the Birmingham community as she was named the Birmingham Business Journal's Non-Profit CEO of the Year in 2011 as well as receiving the 2011 Best Minority Business Award for Non-Profit Leadership.
"As I move on from the role I have been honored to have held since 2004, I am profoundly grateful to the City of Birmingham, each of the supporters, the staff members, volunteers, and board members whose contributions, efforts, expertise, and enthusiasm have fulfilled our mission beyond expectations," said Negrotto. "And to the many institutions and individuals with whom we have partnered or collaborated, or who have so willingly shared insights, I thank each of you and wish you continued success. I am confident Cynthia will be an excellent leader for Vulcan Park & Museum and I look forward to ensuring a smooth transition."
The CEO transition begins April 1, 2023, when Ms. Cardona will take on leadership of the development and execution of VPM's strategies and business plans to drive profitable growth. As CEO, Cardona moves out of her role as Director of Museum Operations.
"I want to thank Darlene Negrotto for her distinguished leadership at VPM and also the Board for its confidence in me as I step into this role," said Cardona. "I am honored and excited to have the opportunity to work with our talented team, the board, and with the Birmingham community.