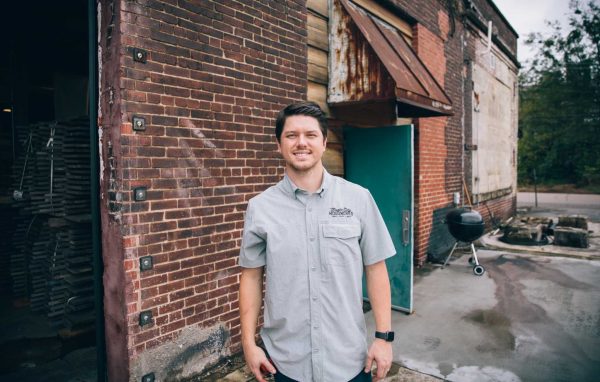 Lawrence Sheffield's desire to serve the city first manifested in a nine-year tenure at local fire departments throughout the area. Yet in 2013, Lawrence felt called to a new kind of career, and Manufacture Good (formerly Magic City Woodworks) was born. What started as a small woodworking shop in a one-car garage has since grown into a multi-million-dollar manufacturing company with more than 30,000 square feet of shop space in the heart of downtown Birmingham.
Despite the company's growth over the past several years, Lawrence's vision has remained the same: to see young, unemployed men find purpose and passion through work. Currently, that vision is accomplished through a six-month apprenticeship experience in which unemployed men are trained to create beautiful furniture, meaningful gifts, custom signage, and more for the good of our neighbor and the glory of God. To date, more than 100 men have learned how to reclaim the workweek for good through the Manufacture Good apprenticeship experience!
Since becoming a Christian at work in 2011, Lawrence believes that we are called to be good stewards of everything that God has given us. In fact, the name "Manufacture Good" reflects God's definition of work that is demonstrated in the biblical narrative found in the creation story. In Genesis 1, we see God repeatedly calling what He has created "good." All He created He called "good," and the entire world was intended to bring glory to His name! Yet as Scripture goes on to tell us in Genesis 3 (and what Lawrence has further recognized through years of research and experience), we've chosen to make our own way in this world rather than trusting God's "good"— leaving much of the workforce lost and unsatisfied. For that reason, Lawrence has poured his life into teaching what he calls the "Heart of Workmanship" wherever and whenever he is able. While much of his mission is practically executed at Manufacture Good through six-month paid apprenticeship experiences, it is supported through the work of staff and apprentices who wholeheartedly craft common goods such as furniture, signs, gifts, and other practical items for consumers and corporations.
When he's not in the office, Lawrence enjoys spending time with his wife, Frances, and their two young daughters.
Click below to learn more about The 2022 Vulcans Community Awards and purchase tickets!