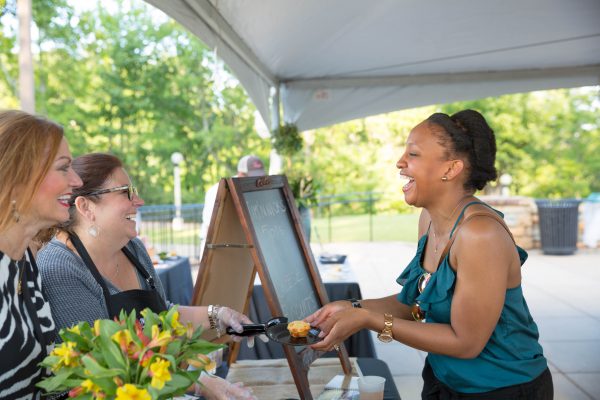 Birmingham, Alabama – Vulcan Park and Museum is once again teaming up with the Five Points Alliance to present the Taste of Five Points event on May 8 from 5:30-7:30 p.m. Presented by Spire, the event will showcase the Five Points district's restaurants, retailers and organizations, and will celebrate the 131st anniversary of the district. Advance tickets are $30 for an individual, $50 for a couple, $20 for students with a valid I.D. and kids 12 and under are free.
Some of the participating restaurants include: Ocean, 5 Points Public House, Farm Burger, Ranelli's, Delta Blues, Sleek Sports Bar & Grill, Dreamland BBQ, Brennan's, Taj India, Highland's Bar & Grill, Chez Fon Fon, Bottega, Mellow Mushroom, Dave's Pub, Little Italy, Chick Fil-A, Blaze Pizza, Freddy's Wine Bar, Insomnia Cookies and Chicken Salad Chick.
The Taste of Five Points also will feature entertainment this year by the Southside Story Teller Festival. Singer-songwriters Callipoe Pettis and Graham Harper will perform. Poets John Paul Taylor and Niya McCray will perform as well as storytellers Kayla McCall, Shelby Bradley, Samika Lewis-Jefferson and Hannah Bray.
"The Taste of Five Points gives attendees the opportunity to try food and cocktails from the many diverse and well-known restaurants who call Five Points home and who play a role in making the City of Birmingham one of the premiere food-destinations of the Southeast," Jeremy Bagnall, marketing coordinator, Vulcan Park and Museum.
Chanda Temple co-author of the cookbook Magic City Cravings will be on-hand to sell and sign cookbooks beginning at 6 pm.
A Taste of Five Points specialty cocktail also will be revealed at the event and made available at participating restaurants beginning May 16 at the Five Points South Bourbon Trail event presented by Birmingham Mountain Radio.
"As a board member on the Five Points Alliance representing retail businesses, our role in the Taste of Five Points is to help with organizing and creating community involvement," said Joe Babin of Orbit Salon. "As an outcome from last year's event, our community grew stronger and we were able to connect with people to share ideas and show them how amazing the Five Points area of Birmingham really is."
The Taste of Five Points is presented by Spire with support from Progress Bank, Laura Kimes Realtor, Lucas & Associates, 97.3 The Play, Birmingham Mountain Radio, Starnes Media, Style Advertising, Coca-Cola and Zydeco. Purchase tickets online at www.visitvulcan.com