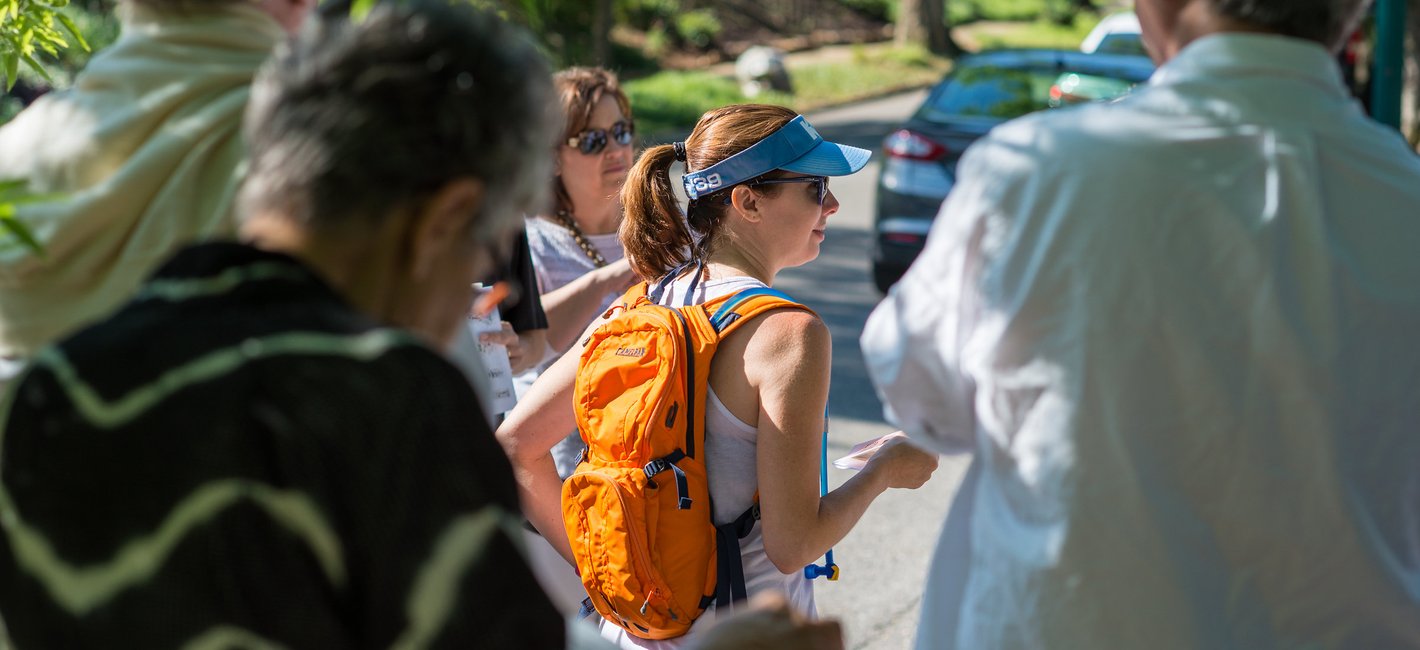 Explore
The Magic City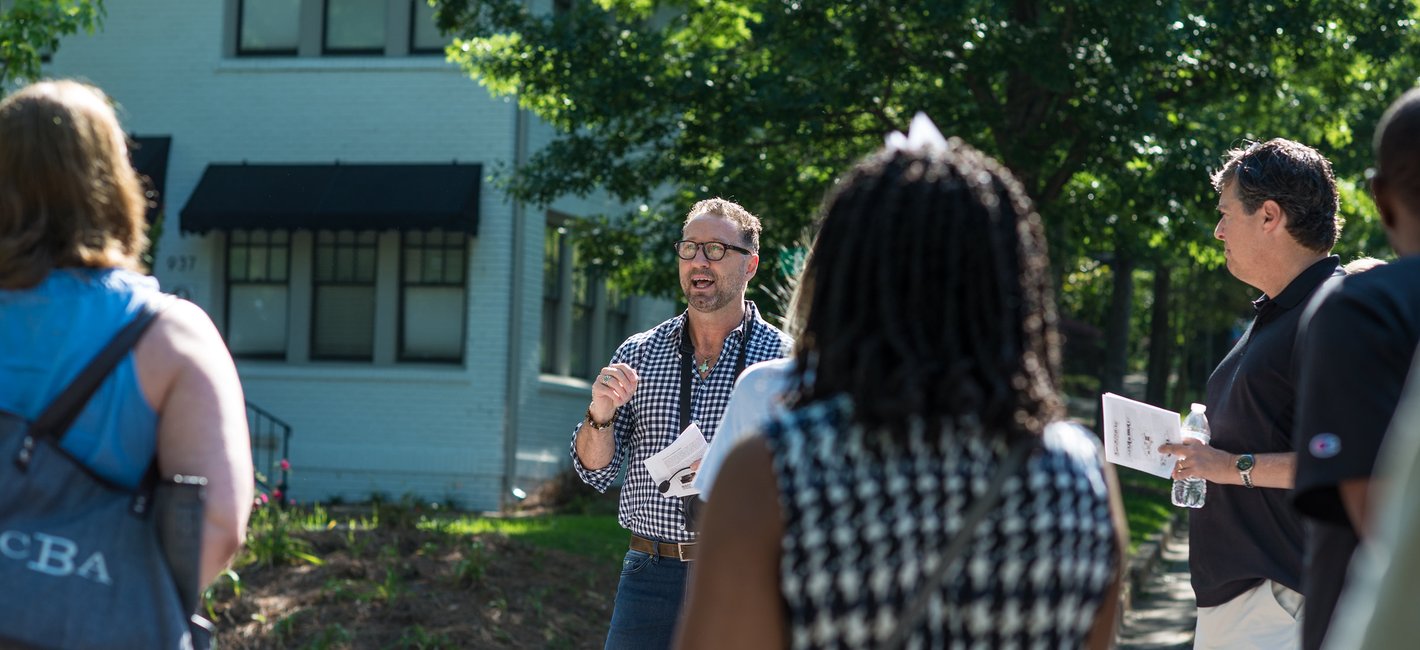 Discover Birmingham's
Rich History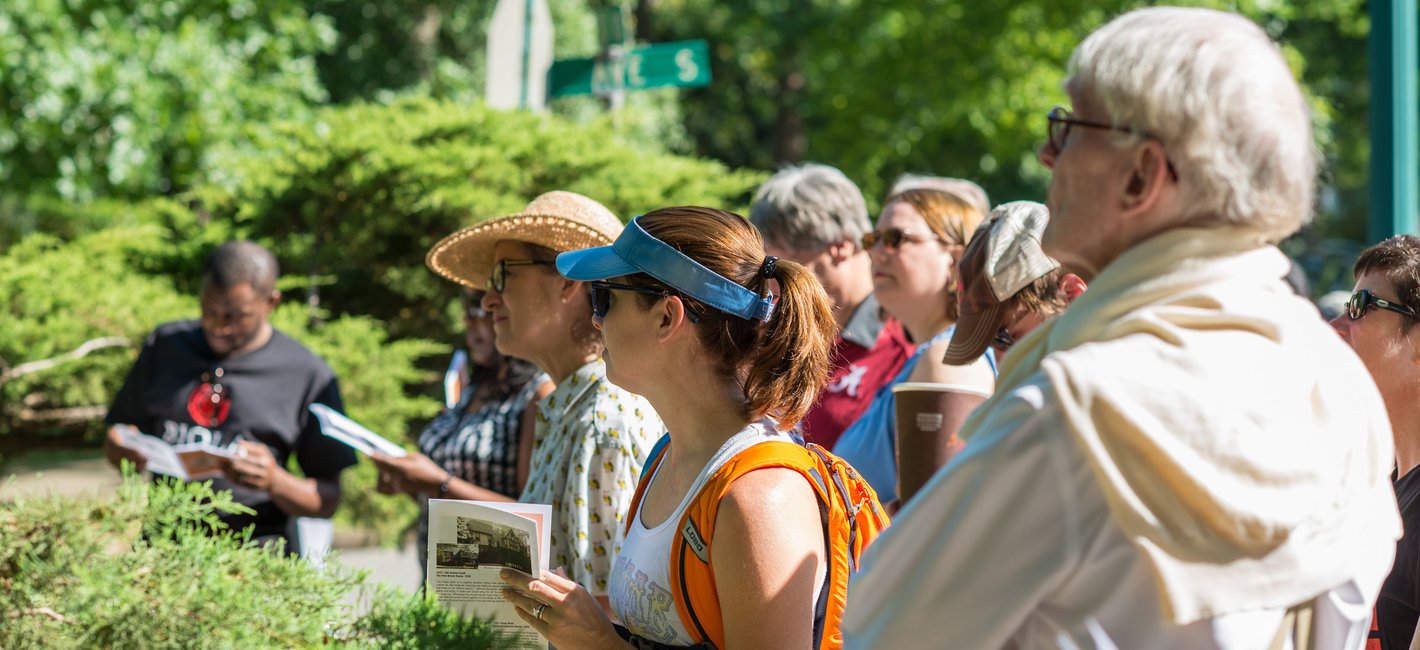 Learn from
Birmingham experts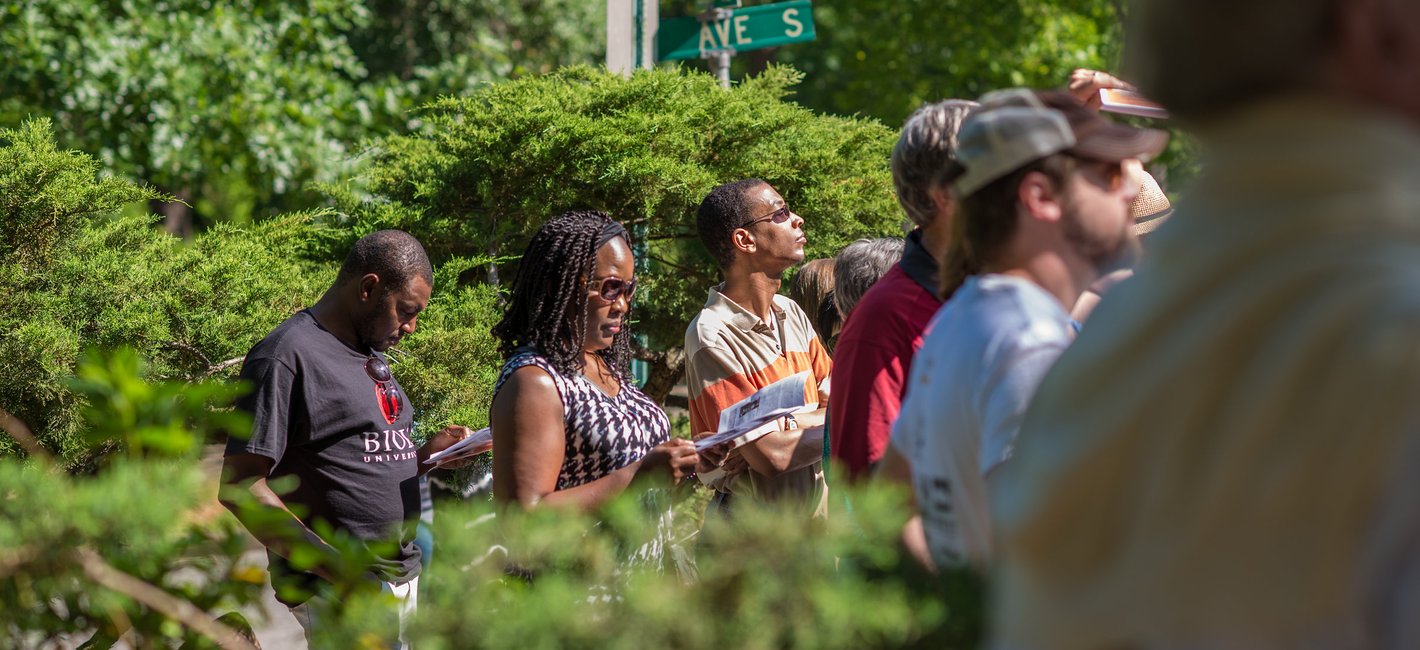 Explore
The Magic City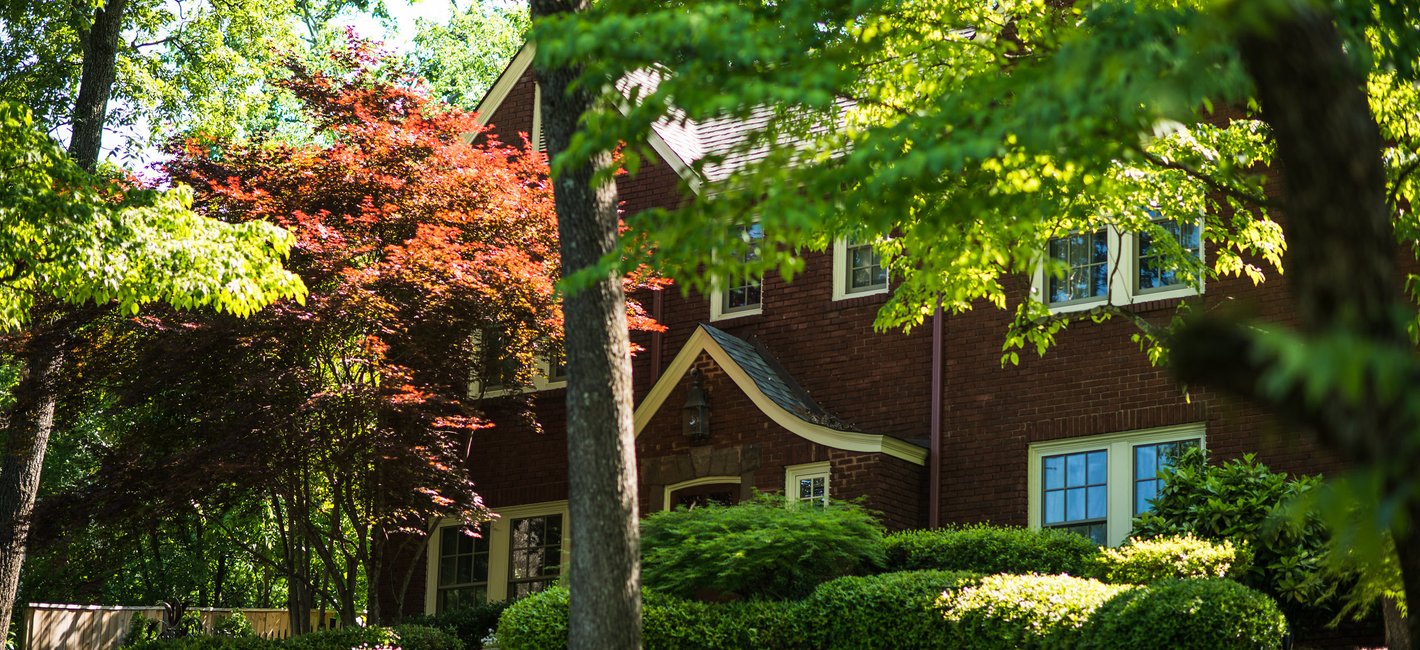 Discover Birmingham's
Rich History
Explore Birmingham Safely Outdoors
Do you love the city of Birmingham and want to learn more about it? If yes, then the Birmingham Walking Tours are for you! For over a decade, Vulcan Park & Museum has created educational, fun tours that explore the architectural beauty and history of the city. Led by historians and architects, our tours reveal the places and people that define Birmingham. Tours are offered on select Saturdays and Sundays from March to November. See below for the full list of tours and registration information. These tours are generously supported by The Caring Foundation of Blue Cross Blue Shield, Spire and Stone Building Company.  
VPM has also partnered with Antonia Revell, Chief History Maker of Freedom Line Tours and the Founder of Genesis History Maker CDC, to offer additional select tours. Beginning April 2023, "The Downton Churches" tours, focusing on the original congregations, will be offered on select Saturdays and Mondays. "The Dynamite Hill" tours will be offered beginning July 2023 on select Saturdays, Sundays and Mondays focusing on the important work of history makers and living legends in this neighborhood. Registration is $40 for Vulcan Park and Museum members and $60 for non-members.
Meet Your Tour Guide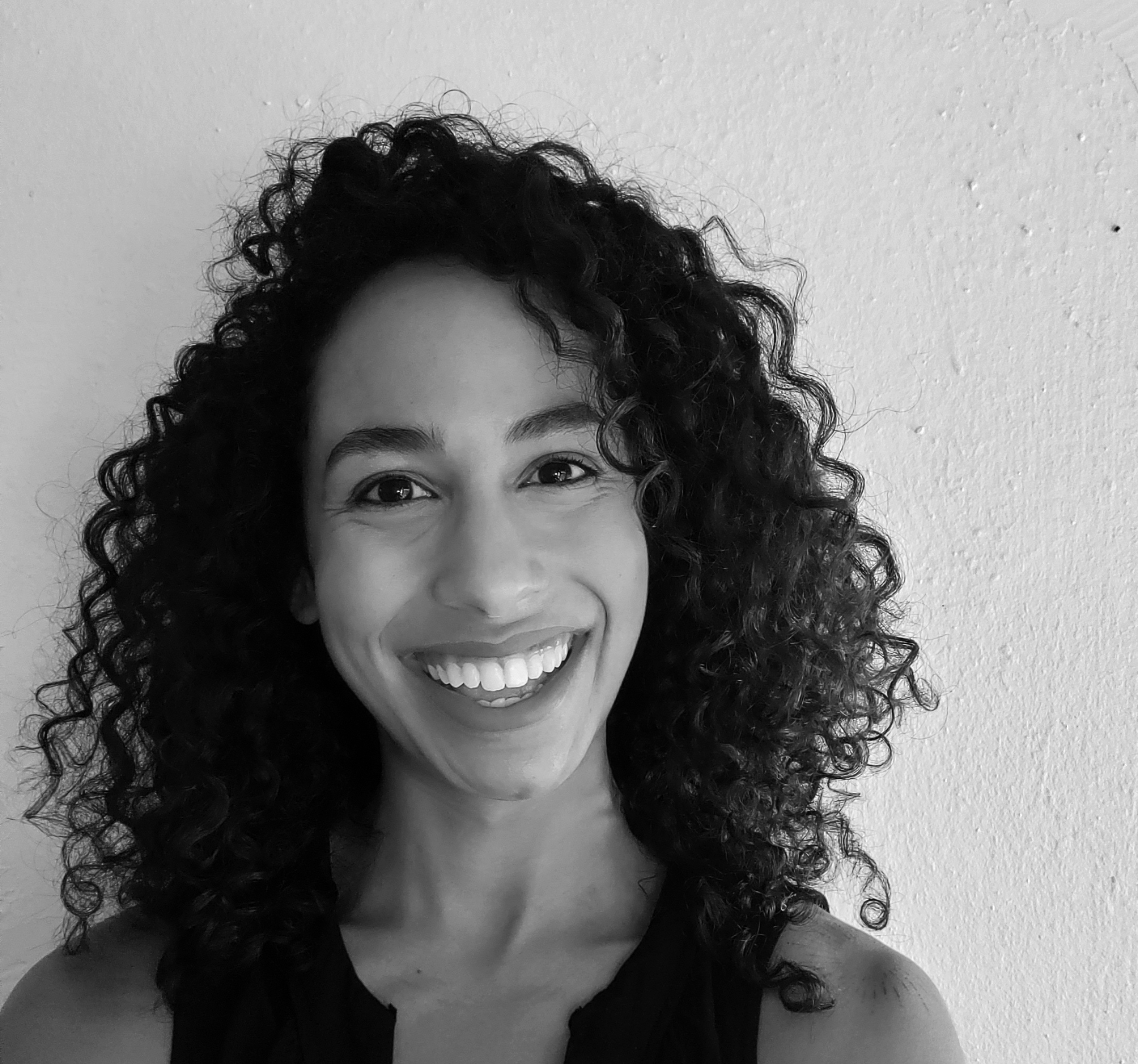 Janine Mwenja
Janine Mwenja
A native of Birmingham, Janine Mwenja is a graduate of Auburn University's Rural Studio program, where she designed and constructed one of the Studio's well-known 20K Houses—and the first 2-bedroom accessible house —part of a decade-old initiative to deliver low-cost, efficient homes for the residents of Hale County.  She returned to her hometown after graduation, and now works as an Architect at DBA_BHM designing across the Southeast.
An active member of the American Institute for Architects, she has served locally as the Birmingham Emerging Professionals Director and nationally as the Equity and Future of Architecture Committee Representative on the AIA Practice Advisory Board. She currently serves on the Alabama Waldorf School Board.
In her free time, Janine is filling her apartment with as many plants as possible, in the hopes that it will soon look like she lives in the jungle. She can be spotted walking her tiny boston terrier around Birmingham.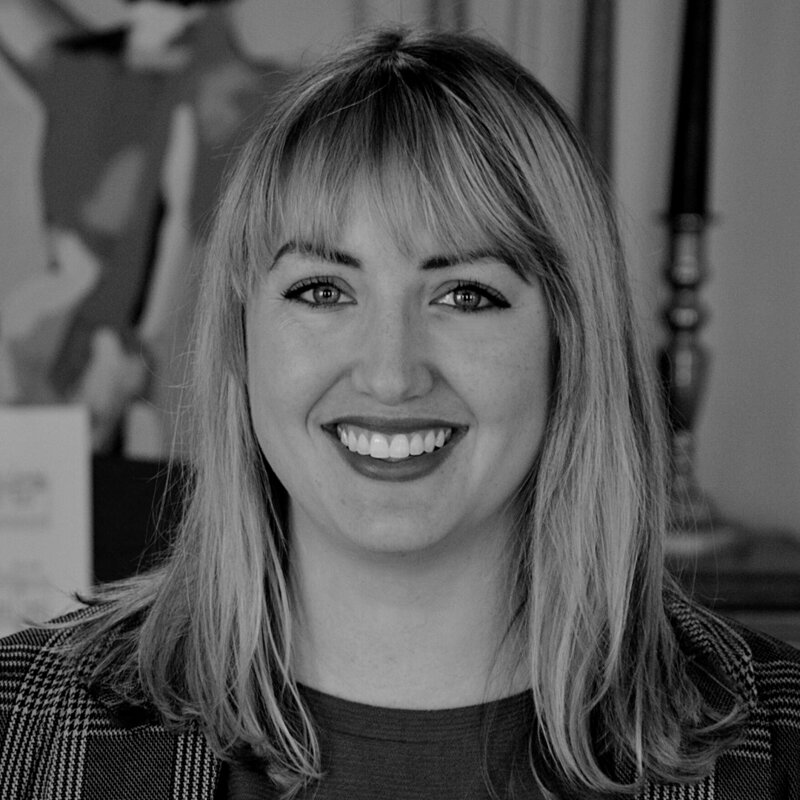 Allison Vosicky
Allison Vosicky
Registered architect Allison Vosicky is an associate at Birchfield Penuel & Associates. A South Florida native, Allison came to Alabama to pursue her interest in architecture, eventually earning her Bachelor of Architecture from Auburn University. Since 2015, Allison has called Birmingham home.
Allison is passionate about the legacy of architecture, history, and stories that Birmingham has to share. She is a member of The Alabama Center for Architecture and serves on multiple AIA Birmingham committees. She volunteers with The Junior League of Birmingham and is the founder of Ladies Wine Design Birmingham.
In her free time, Allison can be found walking or cycling to neighborhood parks, restaurants, and coffee shops with her husband and their golden retriever, Townes. In her free time, she "enjoys" (slowly) renovating her 113-year-old home.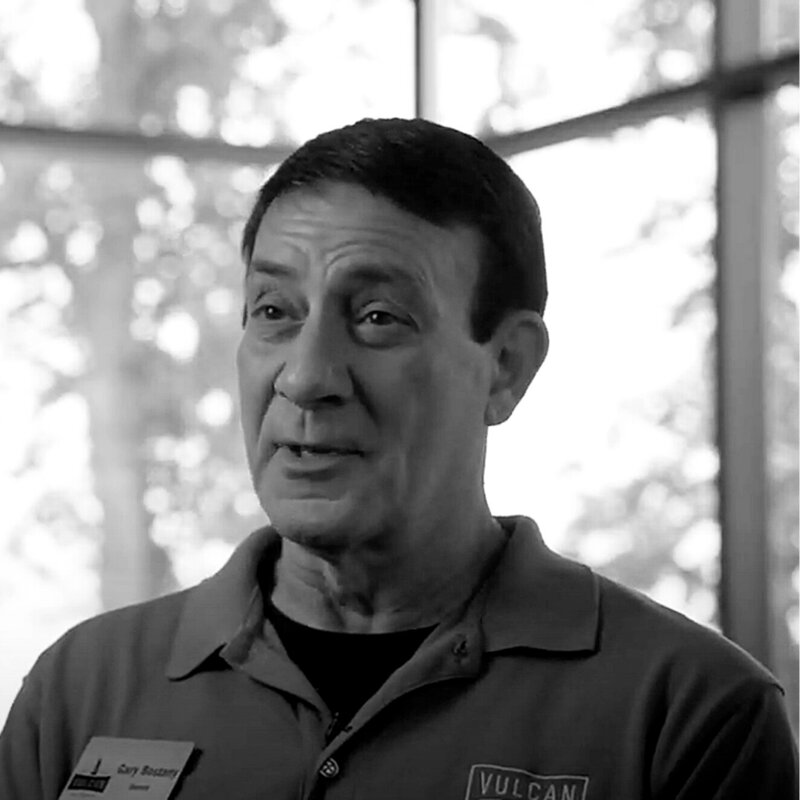 Gary Bostany
Gary Bostany
Gary Bostany is a lifelong resident of Five Points South. After retiring from Southern Progress Company, where he worked as Art Director and artist for Southern Living Magazine, Gary turned his attention to giving back to the community he loves.
His knowledge of Five Points and its environs is personal. Gary purchased and restored the historic Warwick Manor Apartments, where he also lives. He served for 10 years as president of the Five Points South Neighborhood Association. Gary helped plan for the building of nearby Railroad Park, as well.
For more than 20 years, Gary has volunteered with Vulcan Park Foundation. In the late 1990s and early 2000s, he championed the restoration of the city's beloved statue. Since Vulcan Park & Museum opened in 2004, Gary has donated his time as a docent and he continues to serve on VPM's Museum Programs Committee.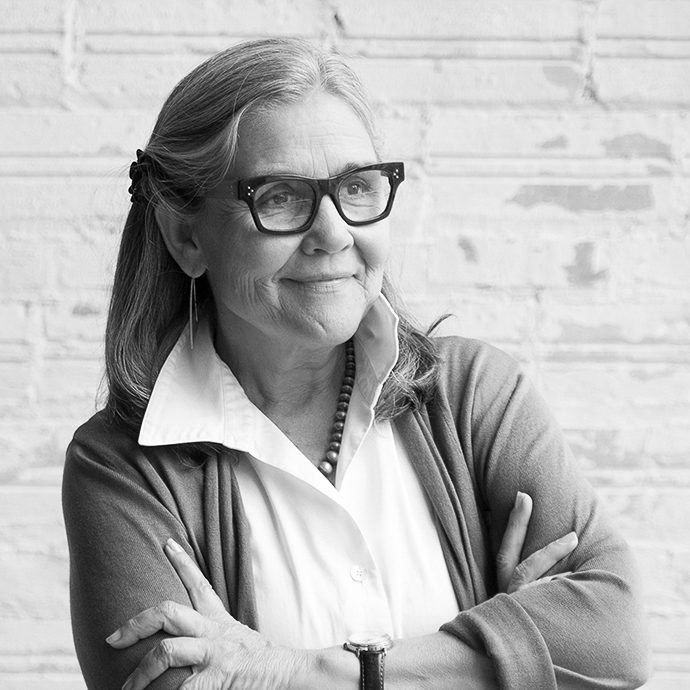 Cheryl Morgan, FAIA
Cheryl Morgan, FAIA
Cheryl is a licensed architect and Emerita Professor of Architecture in the School of Architecture, Planning and Landscape Architecture of Auburn University.  In thirty years of teaching she worked with architectural programs at Georgia Institute of Technology, Oklahoma State and California College of Arts and Crafts.  For the last 12 years of her teaching career she was the Director of Auburn's Urban Studio in Birmingham, Alabama. Under Cheryl's leadership, the Urban Studio's Small-Town Design Initiative Program worked with over 100 small towns and neighborhoods in Alabama.
Morgan practiced architecture and urban design in the San Francisco Bay Area.  She worked with a number of firms including Environmental Planning and Research, Gensler, and the Gruzen Partnership.  Before coming to Auburn in 1992 she was an associate with the Berkeley firm of ELS/Elbasani and Logan.  Morgan's professional practice now focuses on urban design, community revitalization and graphic design. She is also an experienced facilitator.
In 2011 she was presented with the Alabama Chapter of the American Planning Association's Distinguished Leadership Award recognizing her as a "Friend of Planning." In 2012 she received one of Auburn University's highest awards for Achievement in Outreach and in 2017 the Alabama State Council on the Arts named Cheryl one of the recipients of their bi-annual Governor's Award.
Cheryl is a member of the Rotary Club of Birmingham and was honored in 2016 with their Spain Hickman Service Award.  In 2018 she gave a TEDx talk at TEDx Birmingham titled "Place Matters."
She is a Fellow of the American Institute of Architects.
Frequently Asked Questions
Who should attend a walking tour?
Anyone! Walking tours are open to all ages, but content is geared towards adults.
Most tours require 1.5-2.5 miles of walking.
If I use a mobility aid, can I attend?
Yes! Most tours take place on accessible streets and trails. See each tour description for additional details and/or warnings.
What precautions are you taking for COVID-19?
Social distancing is maintained and masks are required. We have also reduced our maximum attendance to ensure that everyone can stay six feet apart.
What will I learn on a tour?
Lots! Tours cover a wide variety of topics including local history (and maybe a little bit of gossip!), architectural styles and influences, preservation efforts, and city planning/design.
How often are tours given?
Please view our calendar that will provide you with up-to-date tour dates and locations.
Yes! Walking tours are one of Vulcan Park & Museum's most popular programs and tickets sell out often. The maximum attendance is 20 people. The minimum number is 2
Are tours cancelled if there is inclement weather?
Tours are rain or shine unless there is severe weather. If a tour is cancelled, you will be notified via email with a rescheduled date.
Where do we meet for each tour?
Each tour has a specific meetup location. You will receive the location and directions of your tour via email, and you can contact us at any time for help. Check-in is 15 minutes before the start of the tour. Your guide will text you before your tour to make it easier for you to find them.
Can I get a refund or reschedule my tickets?
Tickets are non-refundable. If you cannot make a tour you already purchased a ticket for, call us right away – at least 24 hours before the tour start time – and we will attempt to place you on another tour. However, we cannot guarantee availability beyond the tour for which you purchased a ticket.
No partial credit or rescheduling is allowed for partial attendance, no shows, or late arrivals. The tours commence promptly.
For the safety and enjoyment of tour guests, we reserve the right to remove any guests who are unruly or appear to be intoxicated. No refunds will be issued. Please be polite to your fellow guests!
Both tours we attended were very enjoyable and well done.
Gregory Vitalis
Have heard you will be doing it more often, which is WONDERFUL!!! Love the history of Birmingham.
Anonymous
We enjoy everything you offer. Learn something new every time!
Anonymous