Since 2014, The Vulcans Community Awards annual banquet has been Vulcan Park & Museum's way of honoring exemplary individuals for their service to the Birmingham community.   
The COVID-19 pandemic has made the annual gathering impossible this year. So, instead, Vulcan Park & Museum is featuring the 10 honorees of 2020 in the multimedia exhibit The Vulcans: Community Awards On View.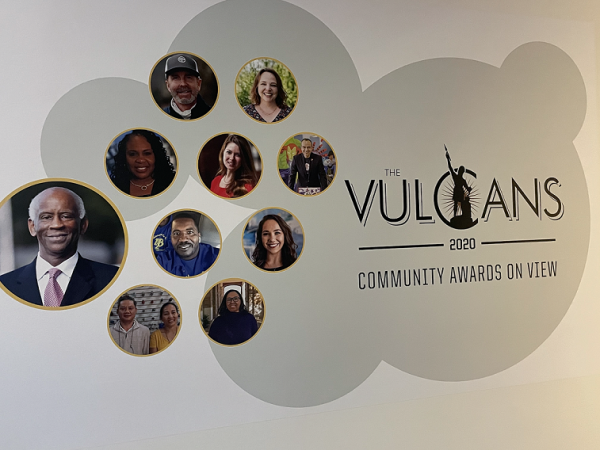 The 2020 honorees have responded to the call to service during one of the most trying moments in our city's history. They include individuals who have helped keep essential workers and the community at large safe and encouraged, as well as individuals who have addressed the need for a more equitable and just Birmingham.   
Honorees fall into one of four categories: Lifetime Achievement, Hero, Game Changer and Servant Leader. This year's Lifetime Achievement Award winner, Dr. Perry W. Ward, is featured prominently in the exhibit. Visitors will learn about his 30-plus–year legacy as President of Lawson State Community College. They'll also get to know Lawson State's own history, a legacy that extends to 1947. Under each of the Hero, Game Changer and Servant Leader categories, there are three honorees—one Vulcan and two Spears.   
One of the advantages of the exhibit format is that it will allow thousands of Vulcan Park & Museum visitors to learn just what The Vulcans are about. With interpretive design by Backstory Educational Media and graphic design by Mandalu, The Vulcans: Community Awards On View is rich in imagery and accessible to visitors. Video links throughout the exhibit will allow visitors to hear directly from the honorees. The honorees have been invited to provide artifacts that illustrate their impact on the city.  
The Vulcans: Community Awards On View runs from January 29 through May 10.  The exhibit is located in the Linn-Henley Gallery inside Vulcan Center. Vulcan Center is open daily from 10 a.m. to 6 p.m. The exhibit is included in the cost of admission.