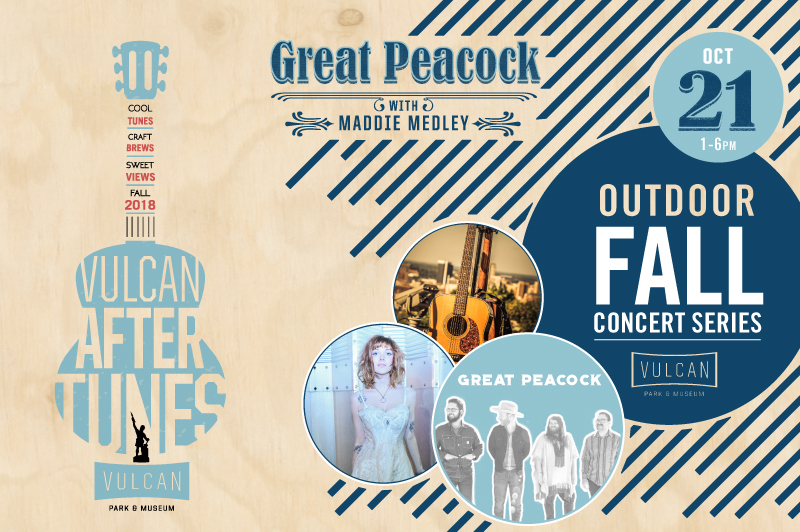 Vulcan Park and Museum proudly presents the 14th annual Vulcan AfterTunes fall concert series. The 2018 event is presented by Vulcan Painters Inc. and will take place Sept. 23, Oct. 7 and Oct. 21.
Enjoy cool tunes, craft brews and sweet views with these up-and-coming artists as well as everyone's favorite cast iron statue, Vulcan. Chill out on Birmingham's front porch with your lawn chairs and blankets and bring the whole family out to enjoy some of the country's best rising entertainers.
Gates open at 1:00 p.m.
Maddie Medley at 3:00 p.m.
Great Peacock at 4:00 p.m.
Opening the final concert is Maddie Medley. Over the last two years, Medley has released a three-song EP, two standalone singles and, now, "Coming of Age." New on the Nashville music scene, she's starting to play out more regularly, but word of mouth about her strong, confident live performances is spreading.
Wrapping up the series on Oct. 21 is Great Peacock, a happening Nashville band that blurs the lines between rock 'n roll, conventional folk music and true Americana. Coming off their March release of "Gran Pavo Real", Great Peacock has been playing across the Southeast with their gripping lyrics and loose southern country charm. They've shared stages with an abundance of equally-minded noise-makers, including Susto, Hurray for the Riff Raff, Cage the Elephant, American Aquarium, Margo Price and Jonathan Tyler.
Beer, wine and soft drinks will be available for purchase and onsite food truck vendors will be accessible.
Tickets and seating are first-come, first-served.
No pets or outside alcohol allowed.
Tickets available for purchase onsite