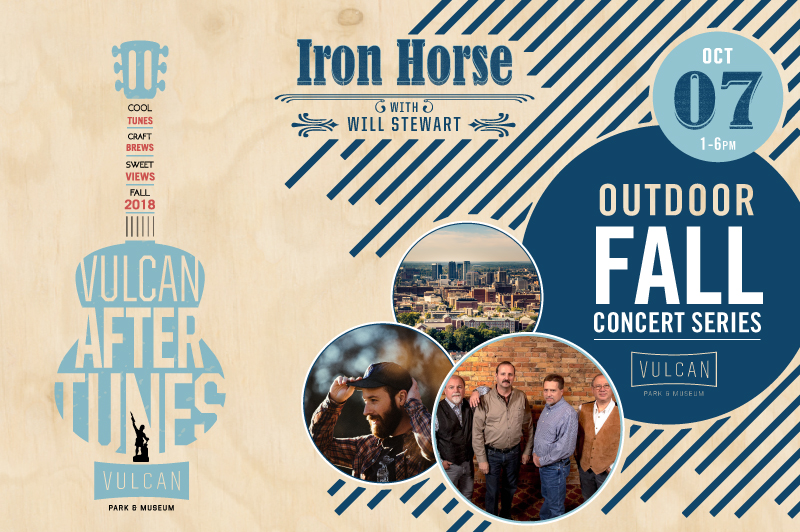 Vulcan Park and Museum proudly presents the 14th annual Vulcan AfterTunes fall concert series. The 2018 event is presented by Vulcan Painters LLC and will take place Sept. 23, Oct. 7 and Oct. 21.
Enjoy cool tunes, craft brews and sweet views with local artists that are sure to soothe your soul with your Friendly Neighborhood Iron Giant, Vulcan! Unwind with us on Birmingham's front porch and stake out that prime spot on the lawn or reserve your VIP location in the front row. Be sure to bring the whole family out to enjoy some of the Southeast's best entertainers!
Gates open at 1:00 p.m.
Will Stewart at 3:00 p.m.
Iron Horse at 4:00 p.m.
Opening the afternoon is another hometown hero, Will Stewart, who recently played at Slossfest and has been rocking Birmingham ballad after ballad. Earning his stripes as a songwriter, frontman and lead guitarist in Nashville, he's cemented himself back in the place that he calls home. Coming off a recent album release in April with "County Seat", Stewart looks to continue to sing his "songs of the south" in Birmingham.
The fall concert series continues on Oct. 7 featuring Iron Horse, a well-known bluegrass band from Killen, AL, just outside of Muscle Shoals. Iron Horse has recorded tributes to Metallica, Led Zeppelin, Ozzy Osbourn, Modest Mouse, Guns & Roses, The Goo Goo Dolls, Hank Williams, as well as others. The variety and energetic composition presented on the live stage performances and recorded projects definitely prove that the well-blended arrangement originalities provided by Iron Horse have merit that will stand on its own in any genre. Their creative approach to bluegrass is infused with their trademark blend of family values and Alabama roots will soothe your soul with each verse.
Craft Brews:
Good People Muchacho
Avondale Spring Street Saison
Lagunitas Sumpin' Easy Ale
Food truck feature to be announced soon.
Tickets and seating are first-come, first-served.
No pets or outside alcohol allowed.
Advance Tickets end at 12:00PM
Walk up tickets are available at the Ticket Booth