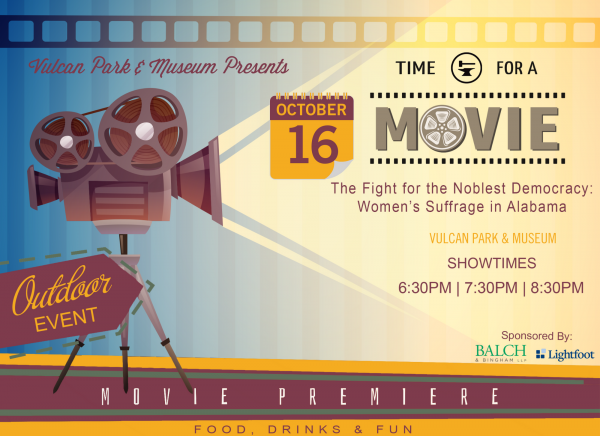 Come and enjoy an evening of food, drinks, and fun while watching "The Fight for the Noblest Democracy: Women's Suffrage in Alabama" from the lawn of Vulcan Park and Museum. This is a short film by Jenna M. Bedsole that briefly reviews the national suffrage movement and then turns its focus to the suffrage movement in Alabama.  It features the leaders who advocated for women's right to vote – their triumphs and their disappointments.  The film also includes those who opposed the expansion of women's right to vote, why they fought against it, and their tactics to stop the effort.
There will be three showtimes on Friday, October 16 to ensure social distancing while viewing the thirty-minute documentary: 6:30 PM, 7:30 PM, and 8:30 PM.
After viewing the film, guests can explore "Right or Privilege: Alabama Women and the Vote" exhibit inside the Linn-Henley Gallery or purchase keepsakes at The Anvil, located at Vulcan Center. There will be food trucks, soda, beer, and wine available for additional purchase.
General Admission for adults is $5.00 and for kids is $4.00. Tickets are available for purchase at the gate.
All guests are encouraged to bring lawn chairs or blankets. Seating is first-come, first-serve.
A huge thank-you to our sponsors Balch & Bingham, LLP and Lightfoot for making this event possible.