3rd Annual synchronized, Christmas light show to captivate guests on select nights 
Vulcan Park & Museum invites the Birmingham area to gather for the 3rd Annual Magical Nights: Vulcan's Holiday Light Experience, Dec. 3-6, 10-13 and 17-23 from 5:30 to 9:30 p.m.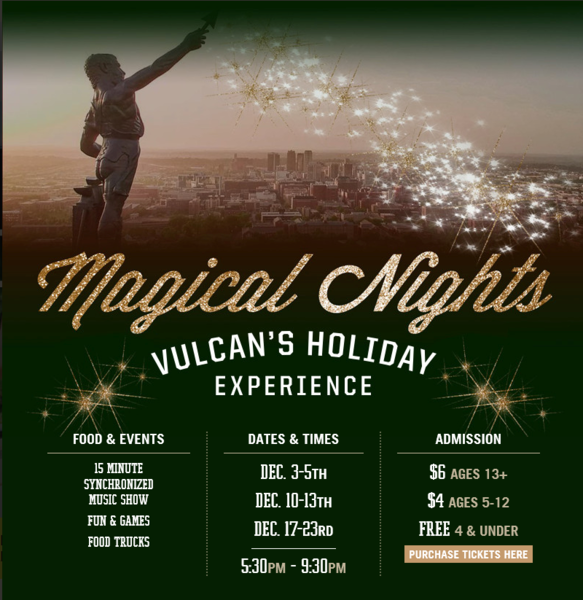 Each hour, beginning at 5:30 p.m., guests will enjoy a 15-minute lively array of dancing lights choreographed to delightful holiday music.  In addition, there will be games for all ages, special guest appearances, music and a picturesque view of the "Magic City". The Anvil and Museum will have extended hours until 9 p.m.  There will also be food, wine and beer available for purchase.  
LaShana Sorrell, Director of Brand Engagement is excited to provide the community a safe, gathering space outdoors to enjoy the holiday season and create memorable moments.  
"During this time of uncertainty, our hope is to uplift the spirits of the community allowing them to continue making festive memories," Sorrell said. "We are so happy that Vulcan can continue to be a part of those memories as he continues to stand for Birmingham." 
This magical event is a limited socially-distanced event with timed tickets issued in one-hour blocks. Vulcan Park & Museum will have limited attendance and recommend purchasing tickets online to ensure availability. There will be a select number of tickets available onsite. Face masks or shields are required in all spaces and can be purchased at the ticket booth. 
Admission is $6 for 13 and up, $4 for kids ages 5-12 and children under 4 are free.   
Magical Nights: Vulcan's Holiday Light Experience is organized by Vulcan Park & Museum with support from Coca-Cola Bottling Company United, Serious Injury Law Group, Protective, McWane, WVTM 13, Latino News and La Jefe.