We are excited to feature some throwback posts from the Birmingham History Center! Former BHC Executive Director, Jerry Desmond, ran a blog from 2011-2016 and used the platform to highlight items from the collection that VPM has since acquired. We hope you enjoy this post from December 2014 about a very cool map of our city!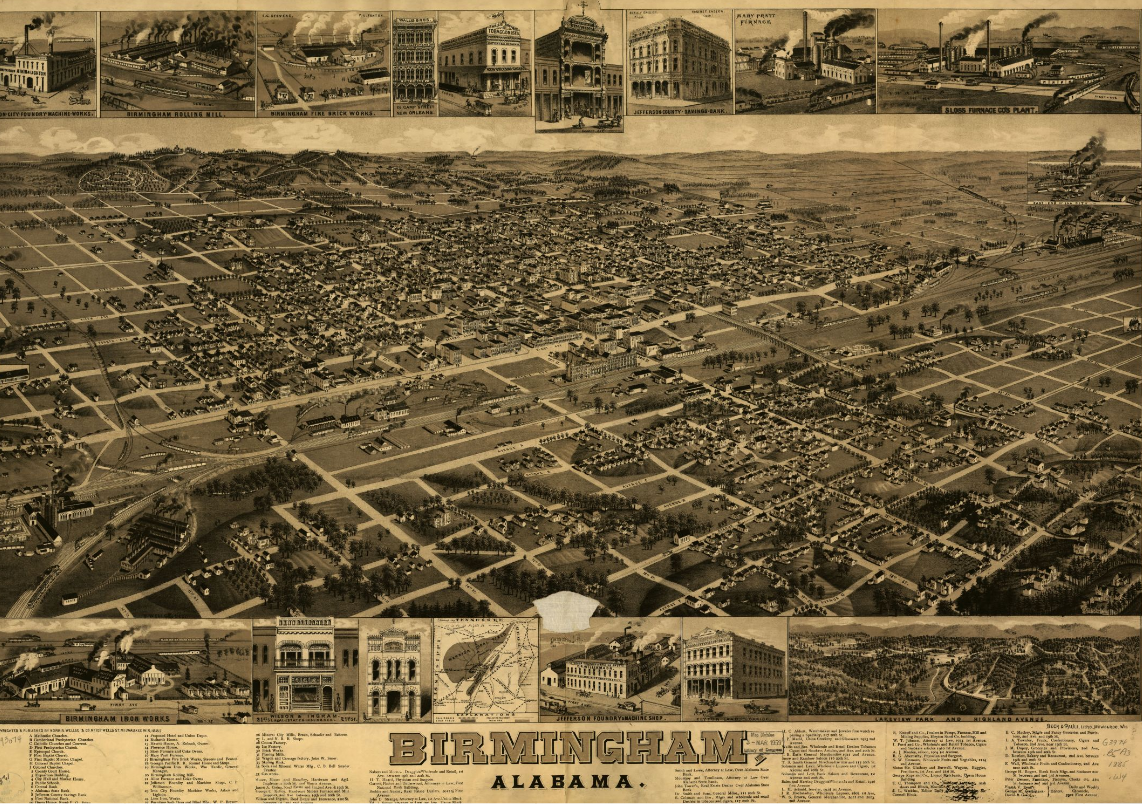 Americans in the late 19th century collected and enjoyed lithographs, especially if the image depicted a favorite topic such as historic figures (Abraham Lincoln and George Washington were the most popular), famous naval or land battles, public buildings, sailing ships, patriotic tableaux, natural wonders, and sentimental scenes of family or holidays. Invented by a Frenchman in the late 18th century, the most common method of lithography (from the Greek "lithos," meaning stone and "graphein," meaning to write) was to etch an image on a smooth treated limestone plate, a method much easier and cheaper than woodblock or letter press printing. Today most lithographs are made by applying a polymer coating to a flexible aluminum plate, usually with the etching designed with the aid of a computer.
Lithographic printing came to the United States in the 1820s. It soon dominated the market for popular prints. One of the most popular categories of lithographs became city views. At first these views were from street level, but soon it became popular to portray settlements from an imaginary viewpoint high in the air. These lithographs would also usually include number legends or keys, passages of descriptive text, and detailed vignettes of important buildings.
As many as 2,500 city view lithographs were produced in America in the period between 1835 and the early 20th century when the fad finally ended. Many lithographic artists, such as Edwin Whitefield, T. M. Fowler, and O. H. Bailey, produced hundreds of city view lithographs. Large and small cities and even small towns and hamlets were depicted, making it truly democratic. However, since this was a purely commercial venture, this art form was largely ignored by art critics, until recently. Today, an original city view lithograph can sell for up to $10,000.
The usual procedure was that a roving agent of the lithograph company would visit a city and sell subscriptions to local businessmen and prominent citizens, often soliciting support from local newspapers. They would stress that this project would be a point of city pride, that other rival communities in the area had already done this and that the final product would be a splendid addition to any wall or business board room. It would also prove to the rest of the country how attractive and prosperous the city had become.
For a larger fee, a business could have its image enlarged around the edges of the city view. A smaller fee would get the business on the numbered legend at the bottom of the print. Then the artist would come to town. He would prepare a city street and avenue grid and make hundreds of sketches of buildings and public areas, noting their locations. From these rough drawings he would produce a more detailed and attractive drawing which would then be sent to a printer.
In 1885, Henry Wellge of Norris, Wellge and Company of Milwaukee, Wisconsin came to Birmingham. One of the best view makers in the country, Wellge was born in Germany in 1850. Rumors were that he had once been a captain of engineers in the Russian army although never proven or denied by Wellge himself. He began making city views in 1878. Over his career, which ended with his death in 1917, he produced over 150 views of cities from across 26 states and Canada. His most prolific year was the same year he visited Birmingham. That year he also completed 10 cities in Wisconsin, 6 cities in Florida, 4 cities in Georgia and 1 city in Texas for a grand total of 22 cities.
His 1885 view of Birmingham is one of his best. Looking across the city to the west from a point high in the air, the image centers on 20 Street and First Avenue North. It is surrounded by 16 larger drawings of sponsor buildings and maps. The legend includes 81 additional city businesses with corresponding numbers on the map. Interesting details emerge including the rail line, the first city school, Capital Park (now Linn Park) and a proposed hotel and depot that was never built near the rails at 20th Street. The upper right corner of the view shows Sloss Furnace which had just been built while the Birmingham Rolling Mill is shown at the lower left corner. It is an amazing snapshot of a growing, booming city.