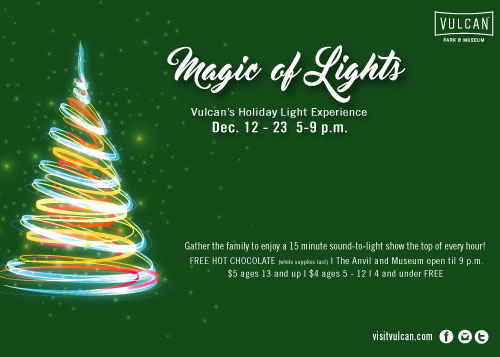 Vulcan Park and Museum invites the Birmingham area to gather for the Magic of Lights: Vulcan's Holiday Light Experience, Dec. 12 – 23 from 5-9 p.m.
At the top of each hour, beginning at 5 p.m.,  guests will enjoy a 15 minute lively array of dancing lights choreographed to delightful holiday music.  The Anvil and Museum will have extended hours until 9 p.m. along with complimentary hot chocolate (while supplies last).  Visitors are encouraged to shop at The Anvil for the Red Dot Sale or purchase Birmingham-themed items from local artisans such as Earthborn Pottery and Glass Studio.
This amazing show is made possible through the generous support from Kiwanis of Birmingham and their gift of the dynamic lighting package.
Listen to the Vulcan Holiday light-to-music show from anywhere in Birmingham!
Simply make sure you have a good view of Vulcan, and a strong wifi or mobile data signal, and then visit vulcanlightshow.com on your desktop or mobile device.
Click through the buttons as instructed, and every hour on the hour from 5:00pm through 9:00pm on December 12-25 the limited-edition web app will play the music that accompanies Vulcan's light show!
*Please note that you will need to re-access the site for each show time you wish to listen to. A maximum 500 users will be permitted to access the audio for each show.
**This is a beta version of the web app. Report all issues to info@tactman.com