In partnership with Vulcan Park & Museum, Maynard Cooper & Gale is proud to announce the unveiling ceremony of the newest Vulcans on Parade on Friday, February 5 at 10:30a.m.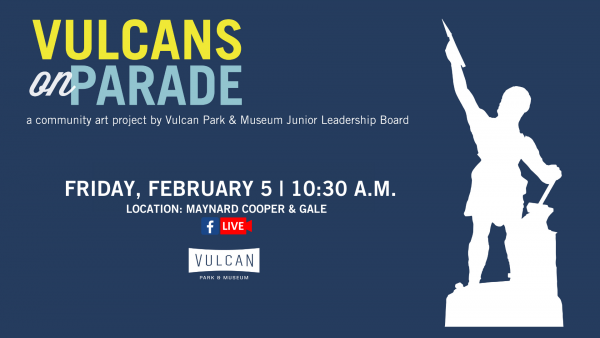 As a safety precaution, the program is closed to the public but will be broadcast live on Vulcan Park & Museum's Facebook and Instagram pages.
Painted by local artist Sonia J. Summers, the statue is located inside the lobby of the newly renovated Maynard Birmingham office at 1901 Sixth Avenue North, Suite 1700, Birmingham, AL 35203. 
The Maynard hosted statue will be named "Esprit de Corps," a nod to one of the firm's founding principles promoting mutual respect, teamwork and open communication. Summers notes the Organic Mosaic pattern of Maynard's Vulcan was born out of a multi-faceted perspective – seeing many sides simultaneously, the light reflecting off the silver at different angles to produce varied views.  This design represents the various communities, backgrounds, personalities, and perspectives that come together in Birmingham, as well as at Maynard.  
"Maynard is proud to participate in the Vulcans on Parade program, joining other corporate citizens in our support of Vulcan Park & Museum and the significant impact the iron and steel industry has had on our city," said Nathaniel Cartmell, attorney with Maynard and member of the Vulcan Park Junior Board.  
Vulcans on Parade is a community art project led by Vulcan's Junior Leadership Board. It began as the brainchild of a team of young professionals participating in the 2015 Project Corporate Leadership class. Additional Vulcans on Parade locations include Railroad Park, BJCC, Kinetic Communications, Birmingham Botanical Gardens, Birmingham Zoo, PropHouse Event Rentals, Birmingham-Southern College, Pizitz Food Hall Courtyard, Magic City Dentistry, Oak Mountain Elementary School, Redmont Distilling and Liverpool, England.