In addition to  the Mineral Railroad bed (current day Kiwanis Vulcan Trail) and Lone Pine Mine #3 – both here at Vulcan Park, Sloss Furnaces, Red Mountain Park, and even the train tracks that run through the heart of the city are just a few examples of Birmingham's evident industrial history.
Having access to this rich history is great, however, not everyone is able to visit these sites.. And that's why Vulcan Park and Museum, funded by the Junior League of Birmingham, put together its series of Traveling Trunks to take Birmingham's history TO schools and any other educational institutions. Take a look!
It's like your grandmother's attic, but without the dust and spiders (and with a Teacher's Guide for educational activities!)
These are the rocks that started it all. The location of Birmingham was chosen when Chief Engineer, John T. Milner, planned for the Alabama and Chattanooga Railroad to intersect the South and North Alabama Railroad in Jones Valley. Investors saw potential for a new city based on an iron and steel industry as the three ingredients (iron ore, limestone and coal) could all be found within a few miles of each other. In 1870, investors in the company bought the farmland in the area around the planned railroad intersection and then officially founded the City of Birmingham with the formation of the Elyton Land Company in January 1871.
One of these hats could actually protect your head, the other just holds on the lamp. I bet you can guess which is which! Both helmets above are featured with a carbide headlamp. More on that below.
Images courtesy of Library of Congress
Exposure of the open flame to flammable gases and other dangers made mining a risky venture and cost many people their lives in the city's early history. Not to mention, it's a good reason to ask your coworkers for some space![caption: Headlamps are pretty common for outdoorsy folks these days and are very safe, so it's hard for us to imagine walking into a dark tunnel with an open flame on our foreheads. But, that's what miners did until the U.S. Bureau of Mines approved the MSA Edison Flameless Electric Miners' Cap Lamp in 1915. Before the Edison Lamps, there were oil-wick cap lamps (invented around 1850) and then the carbide lamps (invented around 1910.)
Carbide lamps ignited the gas (acetylene) which was released from a chemical reaction between water and calcium carbide for their flame. Check out this cool video of lighting a carbide miner's lamp today!
The Miner's Safety Lamp was another attempt to create safer conditions for miners. The lamp would contain a thin, iron mesh around the flame (where the glass part is.) When exposed to flammable gases, as was often found in mines, the flame would not ignite gas beyond the mesh, helping prevent mine explosions.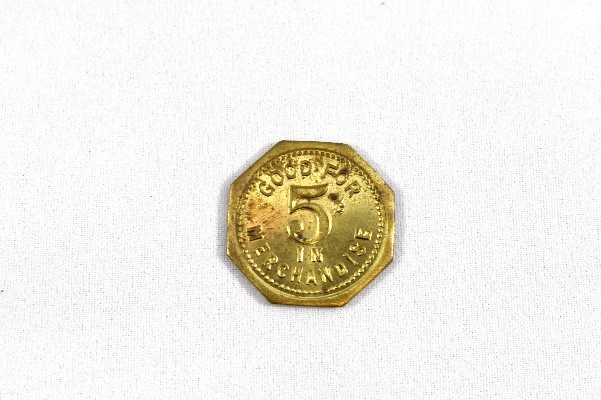 Whether you worked in a mine or at a furnace, part or all of many workers' paychecks were paid in "clacker" or "scrip." These were only accepted at the workers' company's stores. Each company's clacker was unique.
It's no Teenage Mutant Ninja Turtle lunchbox, but this lunchbox has some pretty neat features. Made of metal in order to withstand the rigors of the worksite, the multiple compartments could hold all types of food (generally leftovers from home.) The top portion could hold liquid and workers would pour it into the attached cup for drinking. These lunchboxes came in several shapes and sizes, as you can see pictured.
Image courtesy of Library of Congress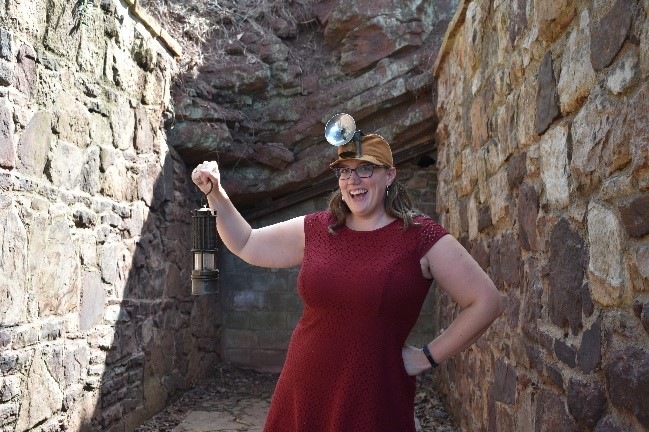 You can physically interact with these historical objects from our education collection! All of these items are available for you and your group to touch, wear, smell and engage with. And, if you're lucky like those of us here at Vulcan, you can pose with them in front of the cool mine you have onsite. This is the entrance to Lone Pine Mine #3, which you can get a glimpse of from our new Kiwanis Centennial Park. No mine on site? No problem! You can easily recreate these historical environments and incorporate other activities with help from our trunk's teacher's guide!
In addition to learning about the industrial history of Birmingham, Vulcan Park and Museum also has trunks covering the topics of World War I and World War II history and STEM topics related to Birmingham's history. Check out our website for more information on how to bring Birmingham's history to life for your group!