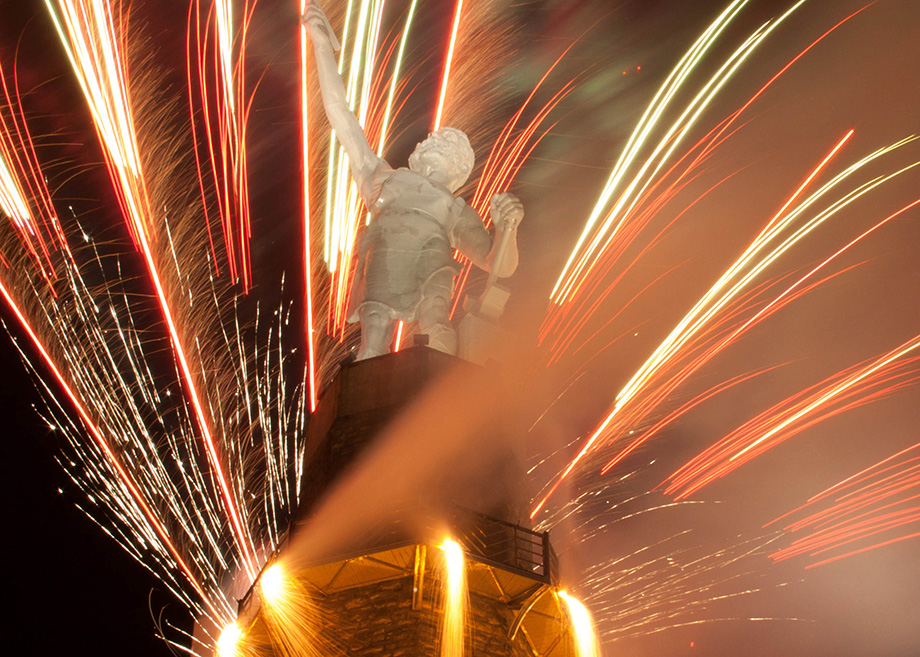 Thunder on the Mountain, Vulcan Park and Museum's Fourth of July fireworks extravaganza, has been hailed as one of the largest and most exquisite Independence Day traditions in the state of Alabama.
This year will be no exception. On Saturday, July 4 at 9:00 p.m., Thunder on the Mountain 2015 will once again illuminate the skies above Birmingham's treasured iron man. This year's show will last approximately 20 minutes and will feature a variety of sparkling fireworks that will brighten the sky with vibrant colors and patterns. The show, as always, will be choreographed to a musical soundtrack that will feature a mix of patriotic favorites and popular musical performances. To enhance your experience, you can tune in to hear the official soundtrack on these local radio channels: 104.7 WZZK, 106.9 The Eagle, Easy 97.3, 98.7 Kiss FM, 95.7 Jamz, 107.3 Birmingham Mountain Radio, 1500 AM Juan and 98.3 FM La Jefa. The entire show will be televised live on Fox 6 WBRC-TV.
The show put on by Vulcan Park and Museum is sponsored by the City of Birmingham, Dale's Seasonings, Pyro Productions and UAB Callahan Eye Hospital.