Register for this free Zoom event here.
Magic In Stone: The Heart of Sylacauga Presented by Ruth Beaumont Cook.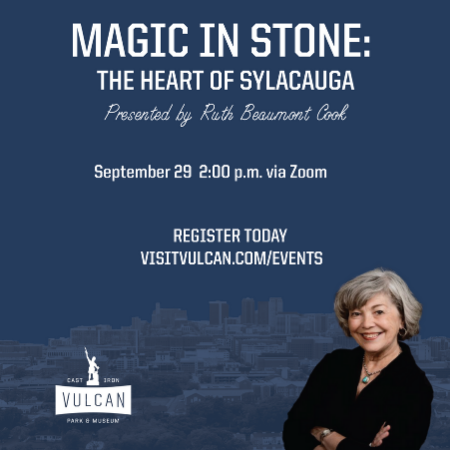 Join Ruth Beaumont Cook, author of North Across the River (1999), Guests Behind the Barbed Wire (2007), and Magic in Stone (2019),as she goes in-depth into the history of Sylacauga. Sylacauga—Alabama's "Marble City"—is blessed with an abundant natural resource that nurtures both its economy and its culture. This crystaline, white marble is frequently compared to the Parian marble once treasured by Greek sculptors and to the Italian Cararra often chosen by Michelangelo. This is the story of quarry pioneers in Talladega County, of investors, artists, and artisans, and also of the families in places like Gantt's Quarry who fondly remember living on the edge of "the hole" that provided for them. It is also the story of the evolution of a resource—from tombstones and architecture to an industrial product called GCC and finally to today's blending of industrial, artistic, and community support for the annual Sylacauga Marble Festival.
Register for this free Zoom event here.